Video Voices: Exploring Diverse Creative Video
May 23 @ 5:30 pm

-

7:30 pm

Free – $15.00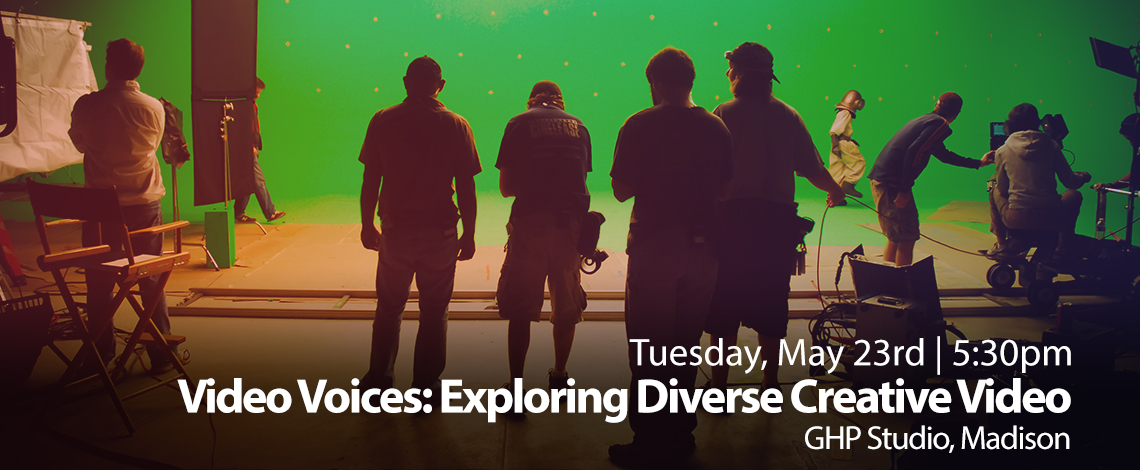 Join us on Tuesday, May 23rd at GHP Studio as our host, Qwantese Winters (host of PBS Wisconsin's "Let's Grow Stuff") walks us through a discussion on growing diversity in our production business. From its very beginnings, film and video have struggled to stay diverse and inclusive. Our panel brings together diverse unique voices from the industry and we welcome your voice as well.
Our panel will include Christina Martin Wright, Executive Director of ARTS for ALL Wisconsin, the state organization on arts & disabilities, filmmakers Ian Tunney and Eric Wang, fresh off of producing their short film, "Triangulador", and Sandy Kowal, owner/producer of her own production company Simply Creative Productions and Desia Xiong, recipient of the 2023 MMP Scholarship.
Qwantese Dourese Winters is a doula, writer, agriculturist, culinarian and co-host for PBS Wisconsin's "Let's Grow Stuff." A show that teaches the beginner gardener how to grow food and tend to the land. Her work centers around inspiring people in marginalized communities to embrace their unique stories and experience as a way to drive innovation and ingenuity whether that be in media, maternal care, agriculture, or the kitchen. She has been working in media since the age of 16 doing work hosting in TV, events, and radio in the Madison area. You can find her work in places such as PBS, Edible Magazine, Madison Magazine, and Love Wisconsin.
Christina Martin Wright is an experienced and dynamic leader with a demonstrated history of working in the arts, youth organizations and higher education industries. Skilled in Communications and Marketing, Development, Grant Writing, Arts and Outreach Program Development, and Special Event Management. Creative professional with an MFA focused on Directing & Dramaturgy from the Chicago College of Performing Arts (Roosevelt University).
Ian Tunney was forced to work as a freelancer in Wisconsin since no one was hiring for any sort of video production role during Covid. Through networking at various Zoom events, he was able to find his way to being a Production Assistant on sets as large as 80 crew members. After showing up on time and not screwing up on his first gig, being a PA quickly became his main source of income. While residing in Wisconsin, throughout 2021 he was able to land 31 commercial jobs as a PA for clients that include Google, WhatsApp, Budweiser, Miller Lite, Northwestern Mutual, Kohler, Trek Bicycles, Yamaha, the Frank Lloyd Wright Foundation, and more. Learn more about Ian.
Eric Wang is a Photographer/Videographer, Software Developer and a student at the University of Connecticut. He serves as the Multimedia Director of the Undergraduate Student Government of UConn and as a Staff Photographer & Digital Editor of The Daily Campus student-run newspaper, producing a wide variety of digital and print content. He works with the UConn Football team as a content creator, Amor in Morton Wedding Films as a videographer, and other D1 college and NBA athletes. His work has been seen over 300,000 times across Instagram, Twitter, YouTube, and other platforms. He shoots a variety of subjects including, but not exclusive to: portraits, concerts, weddings, sports highlights, and music videos. Learn more about Eric.
Sandy Kowal is a creative, hard-working video production specialist for Simply Creative Productions – video production experts in Madison. Sandy's role varies with each production. Not only is she an award winning cinematographer but Sandy also produces, directs & edits. Her keen eye & sense of humor ensures a creative & fun production – from conception to completion. She creates documentary, corporate video, web video or a broadcast video production.
Desia Xiong (she/her) is a first-generation Hmong American artist located in Madison, WI. She is a multi- talented Visual Communications graduate who can do all things video, audio, graphic design, motion design, and even props and costuming! Most importantly, Desia is a PRE-PRODUCTION QUEEN! Her ability to anticipate problems and delegate tasks makes hera strong leader. Desia's artistic style is driven by fun typography, compositions of interesting visual weights, and pairing of bold colors. President and founder of Okami Taiko, Desia brings dedication, initiative, passion and leadership to all aspects of her work.
Tuesday, May 23rd
5:30 – 6:00 Networking/Food & Beverages
6:00 – 6:10 Announcements and Introductions
6:10 – 7:30 Presentation & Q&A
Location:
GHP Studio
84 N. Bryan St. 
Madison, WI 53714
Pricing: 
MMP Members & Student Members Free (Register in advance)
Guests $15
Student Guests $5
($5 more at the door/be sure to register in advance)